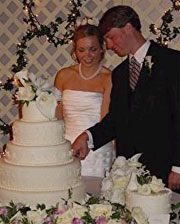 You're paying a lot of money for your wedding photos. Be sure you get all of the photos you want by preparing early and making a list of those shots that are important to you. Print the list below and then mark it up to your satisfaction. Give your photographer the list one week before your wedding to familiarize him or herself with what you'll be expecting.
Be sure to keep a copy of this list to bring yourslef, just in case the photographer forgets or misplaces the list. Ask your Best Man or Maid of Honor to be in charge of the list since you'll be very busy and preoccupied that day.
On top of traditional shots, you may want to ask your photographer to get portraits or candids of specific couples or families that are not in the wedding party since framed photographs make great gifts. You can have these printed and give them as birthday or holiday gifts.
Remember that while you and your new hubbie will be the center of your universe, you are not the center of everyone elses. Keep that in mind when choosing which pictures to give to your guests - a family portrait or a candid of someone's child may be more meaningful to some than your first dance.
Must-Have Photo Checklist
Getting Ready
Bridal party getting hair and make up done
Bride getting dressed
Mom helping the bride get dressed (buttoning buttons, putting on veil...)
Bride looking into the mirror
Bride all ready to go
Bride leaving her house
Details of bride's clothing
Groom getting ready with his groomsmen (tying bowtie, putting on boutonniere)
Groom and his father
Groom all ready to go
Wedding rings with the invitation
The Ceremony
Bride getting out of the limo
Guests arriving at the site
Groom waiting for the bride
The processional
Bride and groom at the alter
Bride and groom holding hands (close up of hands)
View of the wedding party at the alter or canopy from the back
Bride and groom exchanging vows
Bride and groom exchanging rings
The first kiss
Bride and groom being announced to the guests
The recessional
Bride and groom leaving ceremony site
Formal Pictures (before the ceremony or during the cocktail hour)
Bride looking at her bouquet
Bride with her mother
Bride with her father
Bride individually with each bridesmaid/flower girl/ring bearer
Bride with all of her bridesmaids/flower girl(s)/ring bearer(s)
Bride with her entire family
Groom with hismother
Groom with his father
Groom individually with each groomsman/flowergirl/ringbearer
Groom with all of his groomsmen/flower girl(s)/ring bearer(s)
Groom with his entire family
Groom with the bride's father
Bride and groom
Bride and grooom with each family and then everyone together
Bride and groom and the entire wedding party
Bride and groom signing the marriage certificate
The Reception
The reception site before the guests arrive
Shots of decoration details (place cards, table settings, champagne glasses)
Buffet table, if applicable
Entrance of newlyweds
Receiving line
Guests signing the guestbook
Each toast
Bride and groom at head table
First dance
Bride dancing with her father
Groom dancing with his mother
Lots and lots of candids
Special family portraits to use as gifts
Shots of groups from specific parts of your life (first neighborhood, high school, college, relatives)
Musicians
Cake table
Newlyweds cutting (and feeding each other) the cake
Dessert table, if applicable
Bouquet toss
Garter toss
Bride and groom waving from getaway car
Add any additional shots below...